NEWLY RELEASED LYRIC VIDEO
ALBUM REVIEW
Florida's David A, the artist formerly known as David Alpha, recently released his latest album Lit, a mix of indie rock and blues. A prolific musician, David A has managed to record his strongest and most cohesive album yet, partially because he used a smaller core of session musicians, and it sounds like the work of a unified collective. Influenced by the likes of Screaming Trees and Iggy Pop, David A's first album in eight years is intended as a reminder of the power and importance of rock, but it's delivered with an oblique, outsider's perspective that stops the album from ever becoming generic or mundane.
There's a loose and ragged feel to the performances, not entirely dissimilar to Paul Westerberg's later solo recordings as Grandpaboy. The opening track "If I'm So Strange" sets up the rest of the album perfectly with a wall of heavy, chugging guitars. The great thing about David A here is that he never rushes his songs and his band never overcomplicates matters either. "Balustrade" is fairly straightforward and repetitive bluesy hard rock, but this is exactly what makes it awesome as the riff hypnotizes and thunders along, while "Eastertown" verges spectacularly into sloppy punk territory. Suffice it to say, Lit is a fantastic album that bridges genres and styles effortlessly, and it will easily appeal to both nitpicky blues heads and punk purists alike.
MUSIC NEWS 8/1/2023
Adrianna / Fun & Able Topping the Charts
RECENT INTERVIEW JUNE 13, 2023
"[Lit] has a unique signature carrying a theme through the ages with the true rocking spirit David A's vocals possess, a fusion of those hard vocals along with the rocking guitar riffs that engulf the album with the true soul of rock…a wonderful musical journey."
--Amgad Mahmoud, Rock Era Magazine
To read article in it's entirety CLICK HERE
Sacrilege single now available @ Bandcamp CLICK HERE
The newest album LIT is available get it HERE
Just Ask Gloria #8 on Radio Indie Alliance Top Ten Week of February 6th, 2023!
Hi, all! Lots going on for Lit on radio around the country and around the world.
This week, the album was in rotation at WXAV in Chicago; WXOU in Rochester, MI; KRUX in Las Cruces, NM; KWVA in Eugene, OR; WAHS in Auburn Hills, MI; WDWN in Auburn, NY; WIUP in Indiana, PA; WIXQ in Millersville, PA; WMCO in New Concord, OH; WMUL in Huntington, WV; WPNR in Utica, NY; WSOE in Elon, NC; WSPN in Saratoga Springs, NY; and WWUH in West Hartford, CT, and was added by CHMR in St. John's, NF.
Last week, it was added to the libraries and rotations of WCVF in Fredonia, NY; KSCU in Santa Clara, CA; KRTU in San Antonio, TX; WCSF in Joliet, IL, and WXOX in Louisville, KY, joining 300+ other stations, blogs and podcasts since last fall giving it spins in 39 countries on five continents!
A very special thanks to all who have been downloading the album or individual tracks, and to all the fans, programmers and DJs for keeping the faith and rocking the good fight for original indie music! Cheers!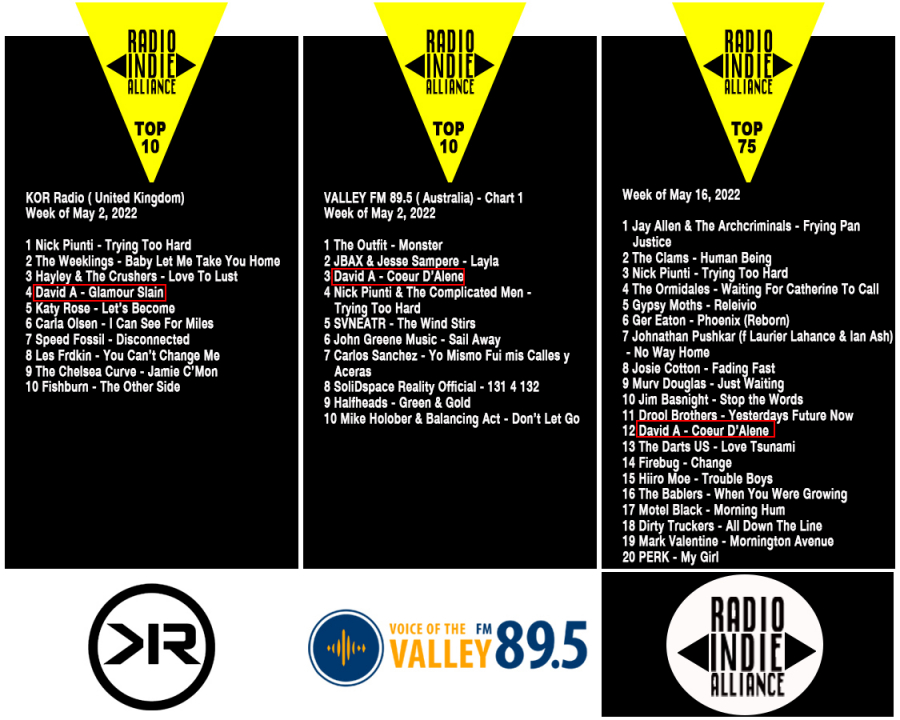 MUSIC NEWS
Couer d'Alene/Glamour Slain, the new 2-sided single from "LIT", is off to a strong start airing on several stations in the U.S. and abroad, including WPRK FM Orlando; CKUT FM Montreal, KRUX FM Las Cruces, NM; PopRadio UK; Radio Candy Radio, Los Angeles; Music Mafia Radio; KDHX FM St. Louis; and Premium Blend Radio Show, UK (podcast), Radio Indie Free Form ( R.I.F.F. ) Novafm 97.5FM ( UK). Many thanks to these great indie stations and their programmers!

DAVID ALPHA
lick here > "Sacrilege" (radio edit) by David Alpha Brothers with East Bay Ray
Hear & Purchase the Music @BandCamp

_________________________________________________________________________________________
Email Dave: dave@davidalpha.net

What fans are saying:
What critics are saying:

"Alpha totally embodies that lost, vagrant soul that the genre pushed so hard [in the late '80s] and it's great to hear it down with an authentic heart once again. ... anybody that likes actual rock music with guitars will find a wealth to love here. ... This music does what it wants and takes no prisoners, and nothing finer can be said of a rock n' roll artist."

-- RJ Frometa, Vents Magazine

... out flogs Flogging Molly and sends Social Distortion back to class with its attitude. ... There's a total outsider perspective to the lyrics with themes of living on the street, self-abuse and screw the world shining through but the poetic turns to the madness incite fist pumps instead of frowns. ... As a one-man gang he's unstoppable."

-- Anne Hollister, The Indie Source

"A sense of true passion burns through these tracks as David Alpha's fiery vocal delivery takes front and center stage. Piercing lyricism helps to tie the whole of the collection together, featuring just the right level of wordplay, storytelling, and humor. ... On 'Rockin' Roulette' David Alpha crafts a unique style, one that feels so contemporary while drawing liberally from rock and roll's glorious past."

-- Skope, Skopemag

"Everything you hear on this EP is an authentic repetition of music and life as it's meant to be heard. The lyrics talk tough. The music doesn't relent and you know it's crossed that path. David Alpha is truly like a lost, yet not forgotten, enigma; he comes and goes as he pleases but he is still in it for the power of the music."

-- Michael Rand, Mobangeles

"... a fireball of vitriol, hard drinkin' nights and tight songwriting that not only get the job done but set the workplace on fire in the process. ... cooking and burning, kind of like the material laid-down by PW Long outside of Mule. It goes down to the barest bone of his influences while marrying modern aggression to classic melody that catches like a virus and gets stuck in your head like a tumor you don't want removed.

-- Sebastian Cole, Gashouse Radio

Visitors
55,109 views since Tuesday, 26 February 2013.
Site Audio Player
If I'm So Strange
David A
2:50
2:39
3:45
3:37
3:31